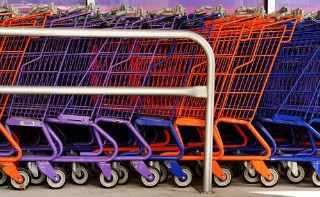 REWARDS SITE
I've shared EBates with you and Saving Star. Plink is another way to earn something extra when shopping at partner's stores rather than sites online. Plink is a rewards program tied to your credit or debit card. Shop at Plink.com's partners and earn what they call plink points. Cash those points in for gift cards from Amazon, Whenever you shop at Plink's partners, you earn plink points. You can cash the points in for gift cards at stores like Amazon, Walmart, iTunes, Barnes & Noble or even donate those points to the Red Cross.
DIY BEAUTY
Bananas are priced quite nice at Albertsons for just 39 cents a pound. With a price that good, you have got to try a DIY beauty treatment for your hair with bananas. This is great for adding moisture to your hair and absolutely fabulous for that extra ripe banana that we always end up having left behind.
DIY - Banana Moisture Hair Mask
- Ripe Banana
Smash it. Okay I should get more serious here. Really mush this bad boy up (I use my little bullet blender) and apply it evenly to hair. I like to work from the bottom up and only coat as far as up to my ears. Put shower cap on to keep it from dripping OR wrap in cellophane. Let set for 30 minutes. After 30 minutes work through hair and rinse. Works like a charm.
Don't forget that you can also use the banana peels in unique ways like:
-Whiten your teeth by rubbing them with the inside white of the peel.
-Deter aphids by cutting up pieces of banana and placing in the ground around the affected plant.
-Polish silver with the white side of the peel (also supposed to be good for leather though I haven't tried it and don't plan to.
-Relieve itching from bug bites and rashes by rubbing the peel on the affected area for several minutes.
-Remove warts by rubbing the banana peel (white side again) on the wart every day for two weeks.
A teen in Istanbul won a science award by making a bio plastic from banana peels. No clue how she did it, but that doesn't keep me from being impressed.
DIY - Sea Salt Hair Spray
1 Tbs Sea Salt
1 tsp Coconut Oil
1 tsp Hair Styling Gel
1 Cup of Water
Combine all ingredients in a spray bottle. Spray generously on hair and scrunch style. Easy and so cute.
FREEBIES
If you are not already a Starbucks Rewards member, you can sign up and register your gift card now until September 22nd and receive a free drink added to your award account on October 1st. You can sign up and learn more at this link.
Thursday is "Talk Like a Pirate Day." Now this may not seem like a big deal to you, but if you head into your local Krispy Kreme and talk like a pirate...you can get a free glazed donut. Yummy details here.
Sign up for a free sample of Bulgari Omnia Crystalline L'Eau de Parfum while supplies last at this link. I love perfume samples. They are great for when you are on a vacation and don't want to pack a breakable bottle.
MUSIC
Phil Wickham has a new album coming out on September 24 titled "The Ascension," and you can listen to it now for free at New Release Tuesday. Follow this link.
EBOOKS (They are free now, that can change so please look at the price before downloading)
Love By The Letter (An Unexpected Brides Novella) by Melissa Jagears - Bethany House Publishers
(AMAZON)
The Sea Glass Sisters: Prelude to the Prayer Box by Lisa Wingate - Bethany House Publishers (AMAZON)

GROCERIES (The store names also link to their websites)
FRY'S
Red Tomatoes on the Vine 88 cents lb
Fry's Milk Whole, 2% Reduced Fat, 1% Lowfat or Nonfat Gallon, Limit 2 $1.87
Marie Callender's Entree or Healthy Choice Select Varieties 9-19 oz 5/$10
American Beauty Pasta Select Varieties 16 oz 10/$10
Broccoli or Cauliflower 99 cents lb
ALBERTSONS
Dole Ripe Bananas 39 cents lb
USDA Choice Boneless Chuck, Cross Rib, Eye of Round or Bottom Round Family Pack Steaks or Roasts 1/1 Free Reg Retail $6.99 lb
Whole Frying Chickens or Jumbo Pack Thighs, Drumsticks or Leg Quarters 88 cents lb
Coffee-mate Flavored Creamer 32 oz Select Varieties $2.99
Bok Choy or Napa Cabbage 69 cents lb
SAFEWAY
Pristine Green Seedless Grapes 99 cents lb
Bartlett, Bosc or Red Pears 99 cents lb
Ragu Pasta Sauce 16-24 oz Select Varieties 2/$3
Roma Tomatoes 99 cents lb
Mott's Apple Juice 64 oz Selected Varieties $2.29