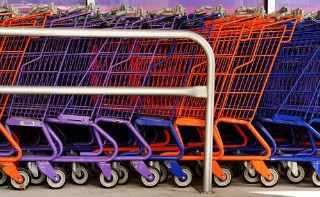 MONEY SAVING RECIPES
Pork chops are on sale at Albertsons this week. These are bone in which actually make the meat much tastier. Follow this link for a great pork chops and apples recipe from Betty Crocker or try this recipe for gluten free roasted pork chops and vegetables also from Betty Crocker.
KEEP THINGS FRUGALLY COOL
I shared this tip a few weeks ago, but I wanted to share it again. Make inexpensive ice packs with sponges. All you need to do is soak a sponge in water. Squeeze it just a bit so it isn't dripping and put it in a zip lock bag and freeze it. You can use these to keep lunches cool, give yourself a cold compress or even to ice an injury. The great thing is that as it melts, the sponge will absorb the water. You can buy inexpensive sponges all over and reuse often, and if it breaks, you don't have to worry about chemicals oozing all over your lunch.
MONEY SAVING TIPS FOR THE KITCHEN
If you are baking a cake and find you are an egg short, substitute one teaspoon of cornstarch and bake away.
Make your own cooking spray oil by combining one part oil to five parts water in a spray bottle. Yep...that's it. You can use olive oil, canola oil, vegetable or corn oil. Works like a charm.
FREE MUSIC DOWNLOADS
FreeCCM has six free music downloads this week including "Take It Away" from Ashes Remain.
FREE EBOOKS
Rain Song (Heart of Carolina Book 1) by Alice J. Wisler (AMAZON) (CHRISTIANBOOK.COM) (BARNES & NOBLE)
A Daughter's Inheritance (The Broadmoor Legacy Book #1) by Tracey Peterson (AMAZON) (CHRISTIANBOOK.COM) (BARNES & NOBLE)
The Solitary Envoy (The Heirs of Acadia Book #1) by T. Davis Bunn (AMAZON) (CHRISTIANBOOK.COM) (BARNES & NOBLE)
GROCERIES
SAFEWAY
Tomatoes on the vine 88 cents lb
Rosina Meatballs 32 oz Selected Varieties Buy 1 Get 1 Free
Fresh All Natural Assorted Pork Loin Chops $1.59 lb
Green Onions, Red Radishes or Cilantro 2/$1.00
Kraft Salad Dressing 16 oz $1.29
FRY'S
-Boneless Half Pork Loin $1.99 lb
-Fry's Large Eggs Grade AA 99 cents (limit 2)
-Mangoes 2 for 99 cents
-Raspberries 6 oz 99 cents
-Iceberg, Romaine, Red or Green Leaf Lettuce or Celery 99 cents each
ALBERTSONS
-Boneless Skinless Chicken Breast $1.88 lb
-Blueberries 18 oz 2 for $4
-Assorted Bone-In Pork Chops $1.59 lb
-Red Ripe Roma Tomatoes 99 cents lb
-Langer's Juice 64 oz $1.49